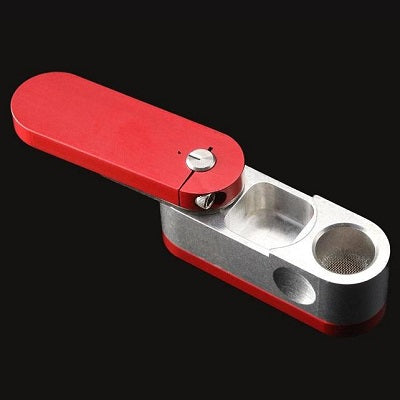 Top 5 all in one smoking pipes
| zach Brown
A tobacco pipe also known as a normal pipe is a device that is made specifically to smoke tobacco. It comes with a bowl for the tobacco from which has a thin hollow stem, that has a mouthpiece at the end. Pipes come in various ranges from very simple to highly prized hand-made pipes, that are more expensive. Smoking pipes are the oldest known traditional form of smoking.
Undur cuvur one full coverage odor proof dugout system
Are you in need to store your to-go stash under heat and water-resistant dugout? You may be a deep-sea treasure hunter, you may be the person who likes to smoke underwater but you are not aware of how to do this.
Undurcuvur one full coverage odor proof dugout system comes with a matte black silicone rubber body that is impact-resistant. This undurcuvur one full coverage odor proof dugout system is 100% odor-proof, waterproof, and airtight. This comes with a glass stash jar and a custom one-hitter bat that is fully wrapped with soft rubber.
Specification of undurcuvur one full coverage odor proof dugout system
This is Airtight
Undurcuvur one full coverage odor proof dugout system is Odor proof
Comes with a 2.5mm glass interiorIt has a Matte black silicone rubber
Dugout system consists of One Hitter
Some of the articles comes with a view window
They are easy to hold and load
Cali crusher hydra 3 in 1
The Cali crusher has been manufactured with all the benefits of a premium glass bubbler and that is durable as long as an aircraft-grade aluminum. You can better understand it as it is wrapped in a metal shield with a polycarbonate. The Cali crusher has all the things that pipe is meant for. They also use quick lock technology which helps to assemble and cleaning.
Specification of Cali crusher  
It is a 3-in-1 Modular System
It has an Magnetic lid
It consists of a Borosilicate glass down stem and bowl
These are Durable and best for travel
Cali crusher has a Polycarbonate viewing window
Can be easily cleaned
Proto pipe all in one brass pipe
The Proto pipes are considered the new version of the classic, they are compact and have all the features of a permanent screen filter. It comes with in-built accessories include a 5 bowl extra tobacco storage, a cleaning poker rod. They are hand-made with solid brass & brass.
Alpha puff kit all-in-one swiss army bong
Alpha Puff Kit is considered the best for all of your smoking needs. The Alpha Puff Kit are fully equipped and comes with a grinder, an adjustable water pipe, and some cleaning tool.
High tech pipes M.E.T.R.O pipes
Metro pipes are not popular just because they are good-looking, they are compact and fantastic smoking tools. High tech pipes are durable pipes that can be load, smoke, clean for years.